Audio Analysis
Audio submission specs from audiobook distributors can often be
difficult to understand, evaluate, and match. Pozotron has an
automated Audio Analysis tool that will assess your mastered audio
files and test them against the submission specs of the world's most
popular audiobook distributors.
Get Started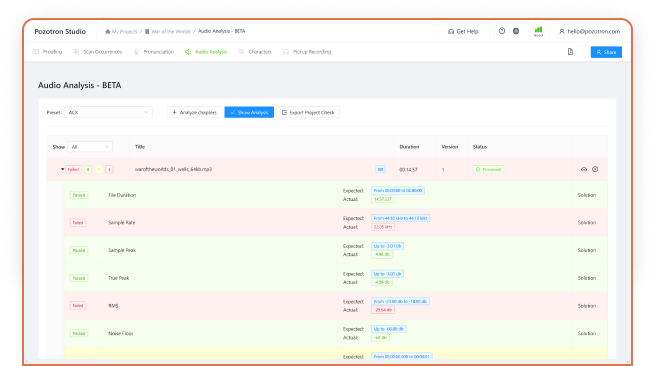 How It
Works
Once your mastered audio files are uploaded to Pozotron, they will be tested to
ensure compliance with the following specs:
Audio Channel
Sample Rate
True Peak
RMS
Sample Peak
Loudness (LUFS)
Noise Floor
Room Tone
(Top & Tail)
Constant BitRate
File Size
& Length
These specs will be tested against your custom distribution specs, or the published
submission specifications of ACX, Author's Republic, Audiobooks Unleashed,
Findaway, and more.