Scripted Audio Production, 
Simplified.
Pozotron Studio is an AI-powered software suite that cuts 
hours from the audiobook, voiceover, and scripted 
audio production process.
Get Started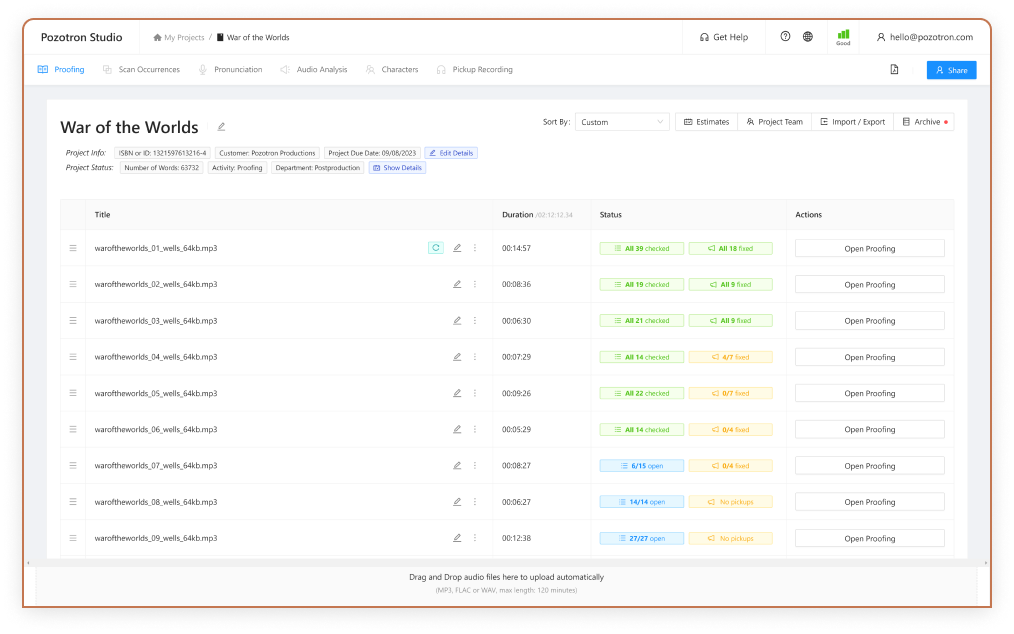 The Fastest Way to Ensure 
Audiobook and VO Excellence
Pozotron's tools significantly reduce production stresses and costs while increasing audio quality 
at the same time. Pozotron Studio uses state of the art technology to make the people involved in audio 
production more efficient and accurate, not to replace them with automated technology.
Your Core
Features
Pozotron allows you to focus on the important 
things to you, your work, and your creativity.
Eliminate Manual Tasks

Streamline the manual effort required to produce pickup 
reports, generate DAW marker files, perform pronunciation 
research, and do script preparation using Pozotron's 
automated exporting functions.

Peace of Mind About Accuracy

Never worry about misreads making it through to 
publication again as Pozotron highlights misreads, inserted 
words, missed words, and long pauses, acting as a backup 
to even the most experienced proofers.

Emphasize Creative Elements

Pozotron's accuracy checking algorithm takes care of 
catching the word mismatches, so your mind is freed up to 
focus on the creative elements like tone, performance, and 
character consistency.